Bill Pay
Paying your bills is about to become even simpler and more convenient.
The 1st CCU Bill Pay service provides you with a convenient method of paying your bills online. The account dashboard allows you to monitor payment activity at a glance. From your dashboard you are able to view all payees, quickly add a new payee, and make a payment with one click.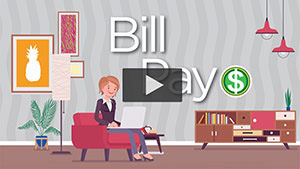 Pay your bills online anytime, anywhere with our convenient online Bill Pay service
Convenience: No checks to write, no envelopes to stuff, no stamps to buy, no trips to the post office

Send payments to anyone, anywhere in the USA with a click of the mouse

Schedule payments in advance; one-time payments, automatic payments, or recurring payments

Payments deducted from your 1st CCU account

Person-to-person, Gift, and Donation payments available

Account-to-account transfers
Get Even MORE Convenience With E-Bill: If your payee has a website available to view your bill online you may be able to set up eBill. eBills present due dates and amounts from your billing statement to alert you when it's time to schedule payments. View the eBill demo video
Sign up for Bill Pay within 1st CCU Anywhere by logging in and clicking on the 'Pay' quick access button
You must have a Share Draft account

Your accounts must be in good standing*

You must read and agree to the Terms and Conditions
Fees may apply. See Our Fee Schedule
*The funds need to be available in your account on the scheduled Process Date which is 2-5 business days prior to each bill's actual Due Date. If the funds are not available on the process date, you will incur NSF Fees. In addition, the payment will be cancelled, which may result in you receiving late fees from the payee.
Website Compatibility
Please make sure your computer settings use TLS 1.1 and higher for accessing 1st CCU's website, Online Banking, and Bill Pay.
NOTE:   On October 8, 2020 it was announced that support for Internet Explorer and the legacy Microsoft Edge browsers will be removed effective January 1, 2021 for Online Banking. If you are currently using Internet Explorer we recommend you switch to the new Microsoft Edge or another supported Browser. If you are using the legacy Microsoft Edge browser (any version of Edge less than 70) we recommend upgrading to the newer version or switching to another supported browser.
In general, compatible browsers/versions* include:
MS Edge - Versions higher than 70
Firefox version 31 and higher
Safari version 9 and higher for Mac (see below for issues with Safari version 13.0.4)
Google Chrome version 42 and higher
*Other browsers not listed may still have functionality, but are not recommended and are compatible only in a limited manner. For example, members using Internet Explorer 10 and lower may need to manually enable TLS 1.1 and 1.2 protocols on the Advance tab in IE via Tools>Internet Options to continue accessing the website. Other members using older Operating Systems and browser combinations might be unable to get to the site if they are not able to access without TLS 1.0 (most notably IE 6 and 8 users on Windows XP or Vista platforms).
Note: Bill Pay subscribers using Safari version 13.0.4 may receive an error message 'Cookies are Disabled'.
1st CCU has been made aware that Bill Pay subscribers using Safari version 13.0.4 receive a 'Cookie are Disabled' message when accessing Bill Pay through Online Banking. Even when ensuring browser settings are set correctly, using this version will not work. Those receiving this error are urged to try using a different browser such as Chrome, Firefox, or Edge.
There is a workaround for this issue if you are unable to use a different browser. You will need to perform the following steps:
With the Safari browser window open select Safari from the menu and select Preferences
When the Preferences window appears, Click Privacy
In the Website tracking area, check Prevent cross-site tracking
With the Privacy window still open uncheck Prevent cross-site tracking
Close the Preferences window
Attempt to access Bill Pay
This should clear the 'Cookies are Disabled' error in Safari 13.0.4; HOWEVER, please note that these steps will need to be performed every time you relaunch Safari.  Technical support vendors are researching this issue to find a more optimal solution. You still have the option of downloading and using Chrome or Firefox to avoid this issue in Safari 13.0.4