Start Them Young: Tips for Teaching Kids About Saving
Saving money is an essential life skill that everybody, regardless of age, should learn about. However, managing finances can be a challenge if you don't have a strong foundation in financial literacy. It's important to teach kids and encourage them to form healthy money habits right away. When they start early in life, these practices will stay with them and eventually shape them into becoming financially responsible adults.
Parents know that a lot of work goes into teaching children about savings, more than just encouraging them to set aside a portion of their allowance. Kids need to stay motivated and be consistent, but it's quite a challenge when they don't understand what they're saving for. One good way to go about this is by setting short-term and long-term money goals.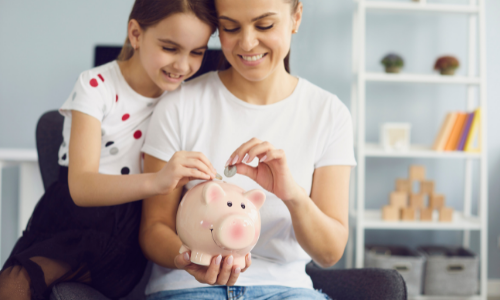 Do they want to buy a new toy, or do they just want some spending money on vacation? Regardless of your child's motivation, we're here to guide you in teaching them how to achieve it. Here are some smart tips on how your child can raise funds for both short-term and long-term savings goals:
Differentiate Wants and Needs
The first and most important step of teaching kids about healthy money habits is to identify the difference between wants and needs. Start by citing examples of needs (food, shelter, clothing, healthcare, and education) and wants (toys, electronics, etc.).
Then, you can quiz them to test if they can already grasp these two concepts. Doing this can teach them to prioritize spending on necessities over luxuries.
Teach Kids To Track Their Expenses
Being a better saver means being mindful of your expenses as well. Let your kids keep a journal where they can log and see their purchases. Have them add up everything so they can keep track of where most of their allowance is going.
By doing this, you can help your children grasp how important it is to create a balance between their expenses and their savings. This may prompt them to change their practices so they can achieve their goals faster.
Provide a Safe Storage Place
For younger kids, having a piggy bank may be enough. But when your child gets a little older, it may be wise to open a savings account at a local credit union.
Build a Financially Secure Future for Your Child
Saving doesn't have to be hard work when you have reliable financial professionals by your side. Let our team at 1st Community Credit Union be your partner in ensuring a bright financial future for your kids. Get in touch with our staff to find out how you can open a children's savings account.
« Return to "Blog"
Go to main navigation